ALWAYS. RELIABLE. EFFECTIVE.
THE UNIQUE HAUFF DIMENSION
Welcome to the Hauff Dimension – the symbol connecting our three market segments: PROJECT, PARTNER and INDUSTRY & UTILITIES. The Hauff Dimension serves as an effective coordinate system and makes it easier for every customer to find the right product portfolio for their requirements in no time at all.
The starting point and backbone of the symbol is our Solution World. As a self-contained environment, it illustrates the various fields of application for our wide range of solutions. No matter what the application, building or network. Hauff-Technik is able to offer you exactly the right solution every time. Everything from a single source.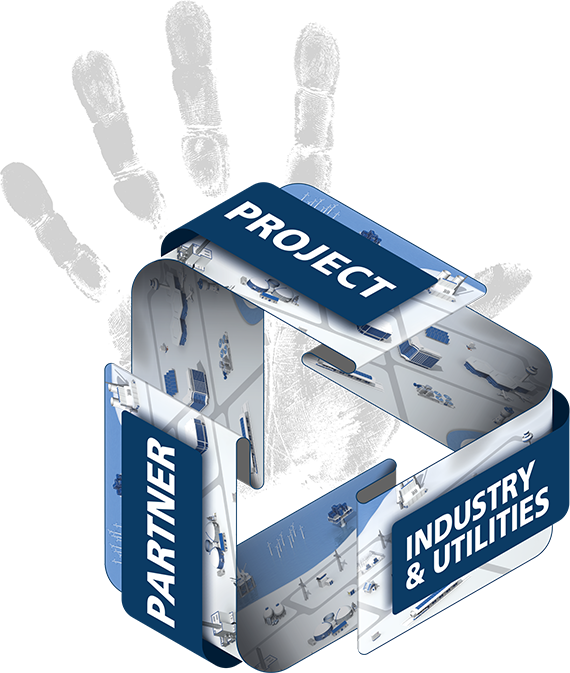 We work together with respect to trade and representation.
We offer the perfect products for specialist trade. That means whether for walls or base plates, you can always be fully stocked with intelligent installed elements offering additional benefits. Whether cables or pipes, universal sealing systems are available quickly and easily via Hauff partners.
From the planning stage right up to completion, we take care of everything directly on site.
Your project is important to us. That's why we provide planning support to architects, specialist planners and building authorities and offer on-site advice to all companies involved in the construction industry regarding the correct way to insert and seal cables and pipes.
Bringing specific components together to create standardised product solutions.
Your products combined with our sealing systems – the optimum complete package for your customers. Whether a building connection, transformer station, biogas plant or wind power plant – with our standard solutions, you will always have made the right choice. On request, we work together with you to develop system solutions tailored to your products.